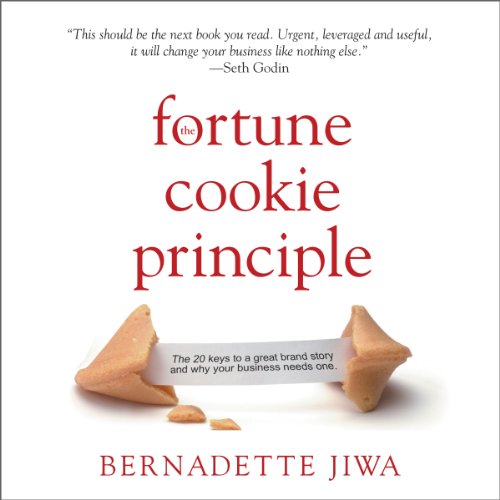 The Fortune Cookie Principle: The 20 Keys to a Great Brand Story and Why Your Business Needs One
By Sarah Zane
In today's marketing world, it's not enough for a business to offer a fantastic product or outstanding service. In order to drive sales and growth, a business needs to tell a compelling story.
In The Fortune Cookie Principle, author Bernadette Jiwa explains that consumers love their favorite brands for the story they tell, as much as for the product or service they offer. It's the story that keeps these loyal customers coming back, again and again.
In The Fortune Cookie Principle, Jiwa identifies 20 keys for creating a great brand story.
1. The truth. What business are you really in? How do you want your customers to feel? Is your credit union selling security, safety or dreams?
2. Purpose. What is the reason you exist? Define your purpose and share it with your members.
3. Vision. What is made possible through your existence? What are your plans for the future? Build your vision into your brand story.
4. Values. How do you broadcast your beliefs to the world?
5. Products and services. What meaning is attached to your credit union's products and services?
6. Your people. Do your customer service representatives reflect your story?
7. Value you deliver. What do you offer your members beyond the superficial descriptions of your services and products?
8. Name and tagline. Do these key pieces of your identity reflect your story?
9. Content and copy. Any piece of content you publish — from cartoons, to videos, to audios, to blog posts — should reflect your brand story and help to share it with the world.
10. Design. Make sure your logo and the design of your website create positive feelings toward your credit union.
11. Your actions. Everything you do as a credit union, from answering phones to helping members to advertising, should be in line with your company values.
12. Customer experience. Do existing and potential members have a positive experience when they interact with your credit union?
13. Price and quality. Are you offering the best value for your products and services?
14. Perception. How do your members see you?
15. Distribution. How do you get your products to your customers? As a credit union, this translates into accessibility. Are you accessible via mobile devices? Do you offer flexibility in terms of hours and service?
16. Location. Where are your future members located?  Your story should reach them where they are.
17. Ubiquity or scarcity. Are you trying to attract the general public or appeal to a targeted audience? Do you want to appeal to the masses or create products and services for people possessing a particular worldview?
18. Community. Do your members feel like they are part of a community?
19. Reputation. How do your existing members talk about you to potential new members? Can they easily share your story?
20. Reaction and reach. Are you giving your members opportunities to demonstrate loyalty to your brand?
Jiwa explains that no one decides to come back to a Chinese restaurant because of the way the fortune cookie tasted. But the whimsical fortune stuffed inside is likely to trigger warm feelings for the restaurant, and is just as likely to create a returning customer.
Your brand works much the same way. The cookie is the useful product or service you offer, while the fortune is the story you tell about your brand. Your story should reflect your values, your purpose and your vision. This is what will stick in your members' minds long after they've received your product or service.
Without a good fortune, the best-tasting fortune cookie is not going to sell. As a credit union, you can bring this lesson home by working on perfecting your brand's story and making it truly memorable.