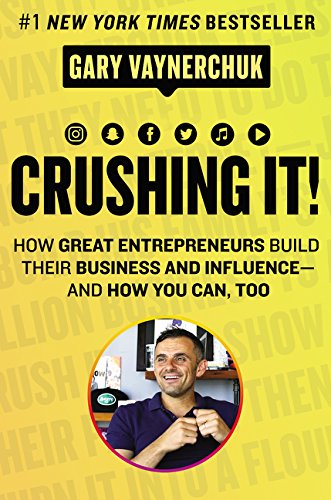 Marketing Bookshelf
Crushing It! 
By Sarah Zane
Leading marketing expert and four-time New York Times bestselling author Gary Vaynerchuk is back with another game-changing book that will help you bring your marketing to the next level.
In "Crush It," his 2009 bestseller, Vaynerchuk highlighted the principle that a memorable personal brand is an integral component of entrepreneurial success. In "Crushing It!," the author stresses that, in today's digital marketing world, this rule is more relevant than ever. Through timeless tips, fascinating success stories and revolutionary ideas, Vaynerchuk demystifies 21st century marketing across all industries.
Here are the 3 key lessons found in Crushing It!:
Lesson 1: You don't need a product to monetize a personal brand.
Social media success is possible, even when you are not selling a product or service. You can document your own life and eventually charge brands for tagging them in your posts. You don't need a full-blown business model when you start out. If your content is engaging and interesting, the money will ultimately follow.
What does this mean for credit unions? It means you can be interesting on social media and build a strong member following without promoting products and services. A better strategy is keeping it personal and focusing on your members and what's going on in their lives as well as positioning the credit union as the expert on all things financial, with interesting and relevant content.
Lesson 2: The following seven principles should form the foundation of any social media presence:
Intent — Great entrepreneurs earn lots of money in altruistic ways. When we are only working for our own gain, clients can tell and will likely not stick around too long. For credit unions, this one is a no-brainer, but be sure to convey the credit union difference in your communications with members.
Authenticity — Always be real about who you are and where you are in life.
Passion — Be an inspired and excited creator, seller or service provider.
Patience — Expect success to take its time in coming.
Speed — While you are waiting for your efforts to pay off, be careful about doing things as quickly as possible.
Work — Hard work is the biggest variable of success that you actually control. Don't be afraid of work, and don't think you're too special to do the "dirty work" yourself, such as calling contacts, sending out your own tweets, emailing possible leads, etc.
Attention — Pay close attention to online trends; they change twice a day.
Lesson 3: Instead of stressing about determining what kind of content to create, document your journey.
No social media platform was created to share the perfect life. Instead, they were designed to help you share your life as you live it. For credit union marketers,  this means giving members insight about the process behind your events, campaigns, new website, rebranding and anything else you can share with members to give them a behind-the-scenes view of what's happening.
To bring these lessons home, Vaynerchuk recounts dozens of stories of real-life entrepreneurs who've seen enormous success by following these principles. With his trademark high energy, signature humor, and indomitable style, Vaynerchuk gifts today's marketers with a priceless blueprint for navigating the noise of social media and making it work for your brand.