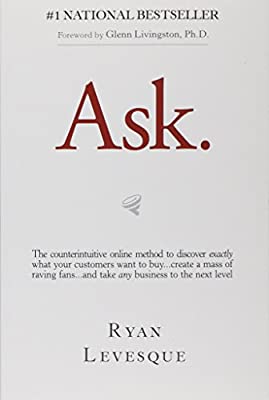 Marketing Bookshelf
Ask: The Counterintuitive Online Formula to Discover Exactly What Your Customers Want to Buy, Create a Mass of Raving Fans, and Take Any Business to the Next Level 
By Sarah Zane
Are you ready to take the guesswork out of marketing? Learn how to find out what your members really want in Ask.
Ryan Levesque changed the world of marketing for businesses all over the world with his creation of the Ask Formula. As revealed inside his bestselling book, the formula is deceptively simple and remarkably effective. Since its development, the Ask Formula has helped build dozens of multimillion-dollar businesses and has generated over $100 million in sales for various companies across 23 industries.
The book teaches how to increase income by 36% by asking the right questions, and why most business surveys are useless. Most importantly, the Ask Formula blueprint is laid out in clear steps.
Here are the key lessons in Ask.:
Lesson 1: Create engaging surveys to segment your audience into buckets.
Stop wasting time trying to get prospects to participate in your surveys and focus instead on making them super-exciting.  Surveys should be engaging and created with the intent of drawing your target audience to your site and introducing them to your brand.
To build the perfect survey, start with an intriguing headline mentioning the goal of the survey. Add a short video or a graphic element for visual interest. Finally, throw in a subtle hint of your expertise to make your prospects more likely to engage.
When you've successfully attracted prospective clients to your survey landing page, work on collecting more information about them and then dividing them into prospect buckets. Levesque suggests a Micro-Commitment Bucket Survey, which is a survey including only questions that will help you refine your prospect buckets.
Lesson 2: Make your hyper-relevant sales pitch only after you know who you're talking to.
Now that you've refined your target audience, you're ready to make your online sales pitch. This webpage should include a diagnosis of the problem you're trying to solve for your prospects, as well as a solution that highlights your business. Consider posting an informational video here to explain your solution in detail.
Lesson 3: Make the most out of the buyers and non-buyers after making your sales pitch.
After you've made your sales pitch and successfully cemented a relationship with your prospect, use the Profit Maximization Upsell sequence to continue the relationship with your audience. This profit model works by presenting a client with another relevant offer soon after they've completed a purchase or walked away from a purchase they were considering. This can be achieved by offering a discount on a product or a solution to another problem they may face now or anticipate facing.
As a credit union marketer, you can use the strategies suggested in Ask to draw prospective new members to your webpage, learn about them with a targeted survey and then offer up solutions to their financial needs through your expertise, as well as the excellent products and services you provide.
Stop wasting time with ineffective surveys and use the Ask Formula to learn what your target audience really wants.